We launched a new product – Green GIS – a natural spray against mosquitoes and other insects.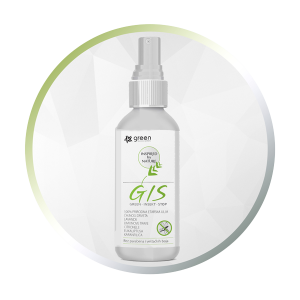 GREEN-INSECT-STOP – natural and safe protection against mosquitoes and other insects that simultaneously protects and nourishes the skin. Thanks to a carefully selected combination of six types of non-toxic, non-irritating, high concentrated essential oils, this preparation is suitable for both adults and young children. Easy to apply and spread. Pleasant smell.
Use: Apply to the exposed parts of the body: arms, legs, neck and face (forehead, cheeks). If necessary, repeat the procedure when the effect weakens (after 3-4 hours). Avoid contact with eyes, mouth and mucous membranes. Apply the product on your face with clean fingers or cotton wool.
SERBIA:
RP: 804,00 RSD
DP: 566,00 RSD
BOSNIA & HERZEGOVINA:
RP: 15,60 BAM
DP: 11,00 BAM
MACEDONIA:
RP: 471,00 MKD
DP: 330,00 MKD
RP – regular price
DP – discount price (with Green membership card)